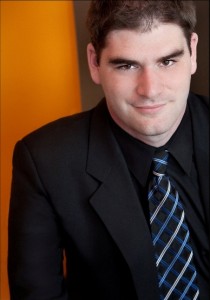 Jared Berry is on the faculty of North Shore High School where he conducts the Concert Chorale and Madrigal Singers, teaches IB Music and Music Theory, serves as Music Director for the school musical, and advises two a cappella groups, the Tri-M Music Honor Society, and the theatre production team. Prior to his appointment at NSHS, he was on the faculty at St. John the Baptist Diocesan High School in West Islip, where he conducted six choirs, and taught music theory (introduction and advanced placement) and piano class.
During the summer, he serves as assistant director of administration and a member of the faculty at the New York State Summer School of the Arts (NYSSSA) School of Choral Studies, a summer residential program which brings together seventy high school students across the state to further study vocal arts.
Jared serves as Artistic Director & Conductor of the Babylon Chorale, a premiere eighty-five voice community choir presenting annual holiday, classical, and pops concerts. Additionally he serves as Manager and a singer in the Long Island based eVoco Voice Collective, a chamber choir of select singers, conductors, and educators.
He has appeared twice as a Music Director at the International Gilbert & Sullivan Festival in Harrogate, England: SavoyNet's 2014 production of Thespis (second place), and Blue Hill Troupe's 2015 production of Patience (first place). Previously, he was the Concert Music Director and Chorus Master for the Blue Hill Troupe, a New York City based theatre troupe presenting high quality theatre performances while raising money for New York City charities.
Prior to his return to Long Island, he was music director and conductor of the University of Georgia Opera Theatre production of Pirates of Penzance, founding artistic director of the Men's Glee Club Varsity Singers, and assistant conductor of the Men's Glee Club, Women's Glee Club, and University Chorus.
In addition to his conducting and teaching, he serves as the Honor Choir Coordinator for ACDA Eastern Region (2016 Boston, MA; 2018 Pittsburgh, PA; 2020 Rochester, NY) and as Webmaster for the New York ACDA. A proud alumnus of Hofstra University, he is the Founding President of Allegro Con Brio, the music alumni association, and is co-chair of the scholarship committee of the Alumni Organization. He received a M.M. in Choral Conducting from the University of Georgia, and a B.S.Ed. in Music Education from Hofstra University.